NAIDOC Week 2021 Art Comp
HEAL COUNTRY!
BIRIPI ACMC's NAIDOC WEEK COMPETITION DETAILS
We are putting a shout out to all of our DEADLY talented Aboriginal & Torres Strait Islander designers and artists to showcase what this year's NAIDOC Week theme 'Heal Country!' means to them, we want to see designs submitted by ALL ages you MUST live in the Mid North Coast area. There will be one First prze winner, The winner will have their art featured on some of Biripi ACMC's NAIDOC Week 2021 merch.
The artist / designer will win $1,000.00 (deposited into their nominated bank account) receive their very own Biripi ACMC NAIDOC merch prize pack with their artwork featured on some of the merch. The winner will be judged by an internal Biripi ACMC judging panel.
The Finer Details:
Submit a design by 5:00pm on the 7th June 2021 that tells YOUR story of 'Heal Country! (minimum 25 words) by emailing the signed Terms and Conditions NAIDOC Week Art Comp 2021

, a photo of yourself and your artwork to info@biripi.org.au.

Don't forget to include your name, contact details and a brief story (minimum 25 words) explaining the meaning behind your design. The judging committee do not need original artworks unless you are the 1st prize winner.

Artwork must be 2D, be minimum dimension of 30cm x 30cm, art can be a painting, drawing or in digital format.

Unfortunately, Biripi ACMC staff are NOT eligible to submit an entry.

Have FUN and GOOD LUCK! 
NAIDOC Week 2020 Art Comp
Due to COVID – 19 this year's NAIDOC Week has been rescheduled to be held from the 8th November 2020 to the 15th November 2020.
1st PRIZE
Brittany Cochrane
"While sketching and developing the story behind the artwork, I wanted to create something that symbolised what our culture has been through to be surviving hundreds of years later. I interpret the phrase; Always Was, Always Will Be as the journey and all the obstacles our people have had to overcome to be standing strong today. Through colonisation, genocide, and further modernism of the country our culture is still thriving, our people are learning to connect more to culture each day. Whether that be through traditional hunting or gathering, coming together for ceremony and/or passing down traditions to the younger generation. Our people continue to care for the land as the land cares for us back, continuing that connection to Mother Earth as our people have done for hundreds of years. Symbolism of my story throughout the artwork include;
The splatted background represents the pain and agony our ancestors went through during the colonisation and genocide, it's also specifically placed in the background the show our people's journey
The multiple circles represents each tribe and how they come together for ceremony's
The animals and the tracks are symbolic to bush tucker
 The foot prints represents the younger generation leaving their mark by continuing our culture
The silhouette of an old Aboriginal man is symbolic to our past ancestors and how they continue to watch and guide our people  
The tools such as  the coolamon, clap sticks, digging sticks and boomerang are all equipment our people use to use to hunt and collect."
The People's Choice Winner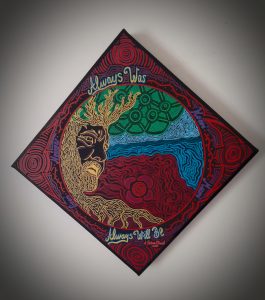 April Bulmer – McDonald
"My piece describes that we Always was and Always will be connected to mob as shown in the tree top and surrounding what was and always will be, the land that we came from and will return to, fire shown on the land to ward off negativity, smoke to cleanse us shown surrounding us all, nature like the tree and water to keep us going and flowing, our blood that brings us together as one mob, our guidance from our Elders and Ancestors from the dreamtime as shown in the tree."